Strategic Board of Advisors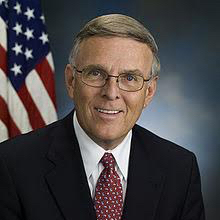 U.S. Senator Byron L. Dorgan served as a Congressman and Senator for North Dakota for 30 years before retiring from the U.S. Senate in 2011.
He served in the Senate for 18 years and was a member of Senate Leadership for 16 years, first as Assistant Democratic Floor Leader and then as Chairman of the Democratic Policy Committee. He served on Senate Committees for Energy, Commerce, Defense Appropriations, and was Chairman of Indian Affairs. He was also Chairman of Senate Subcommittees on Energy and Water Appropriations, and Aviation.
As Chairman of the Aviation Subcommittee of the Senate Commerce Committee, Senator Dorgan worked extensively on aviation issues. He served as Co-Chairman of the Eno Center for Transportation project exploring ways to reorganize the Air Traffic Control function at the Federal Aviation Administration (FAA) to accelerate the movement to the next generation air traffic control system using GPS as a replacement for ground based radar.
Over the course of his career in public office, Senator Dorgan consistently promoted and defended the economic needs of rural America, advocated for renewable energy and energy independence, and championed sound economic policies. He was a senior Senator on the Defense Appropriations, Energy, and Commerce Committees in the Senate and chairman of key subcommittees on aviation, energy, water, and Indian issues. While in the Senate, he was the lead sponsor of the Electric Vehicle Deployment Act. He is recognized as someone with substantial expertise in energy, aviation, agriculture, water policy, Native American affairs, and issues dealing with the economy.
The Senator is a New York Times Bestselling author of four books. He is an Adjunct Visiting Professor at Georgetown University McCourt School of Public Policy. He serves as a Senior Policy Advisor with the Washington DC law firm Arent Fox and he is a Senior Fellow at the Bipartisan Policy Center, a Washington DC think tank. He serves on the Board of Governors of Argonne National Laboratory and he chairs a program at the Aspen Institute–The Center for Native American Youth–focusing on challenges faced by Native American children with a focus on teen suicide prevention and education opportunity.
Senator Dorgan has a Bachelor's Degree from the University of North Dakota, and a Masters of Business Administration from the University of Denver.